INNOVATION INSIDE EVERY CABINET
SAVE 20% ON INSTALLATION TIME
---
1. NEW EASY INSTRUCTIONS

Clear, simple, direct

2. REMOVABLE BACK PANELS

For easy pipe access

3. FREE ADJUSTABLE SPACER FIXING

An award-winning solution

4. EASY ADJUST HINGE PLATE

Reduced installation time

5. IMPROVED SHELF SUPPORTS
Easy adjustment of shelf height


6. REDUCED BOTTOM PANEL DEPTH

No need to cut for pipes

7. QUICK INSTALL LEGS

No screws required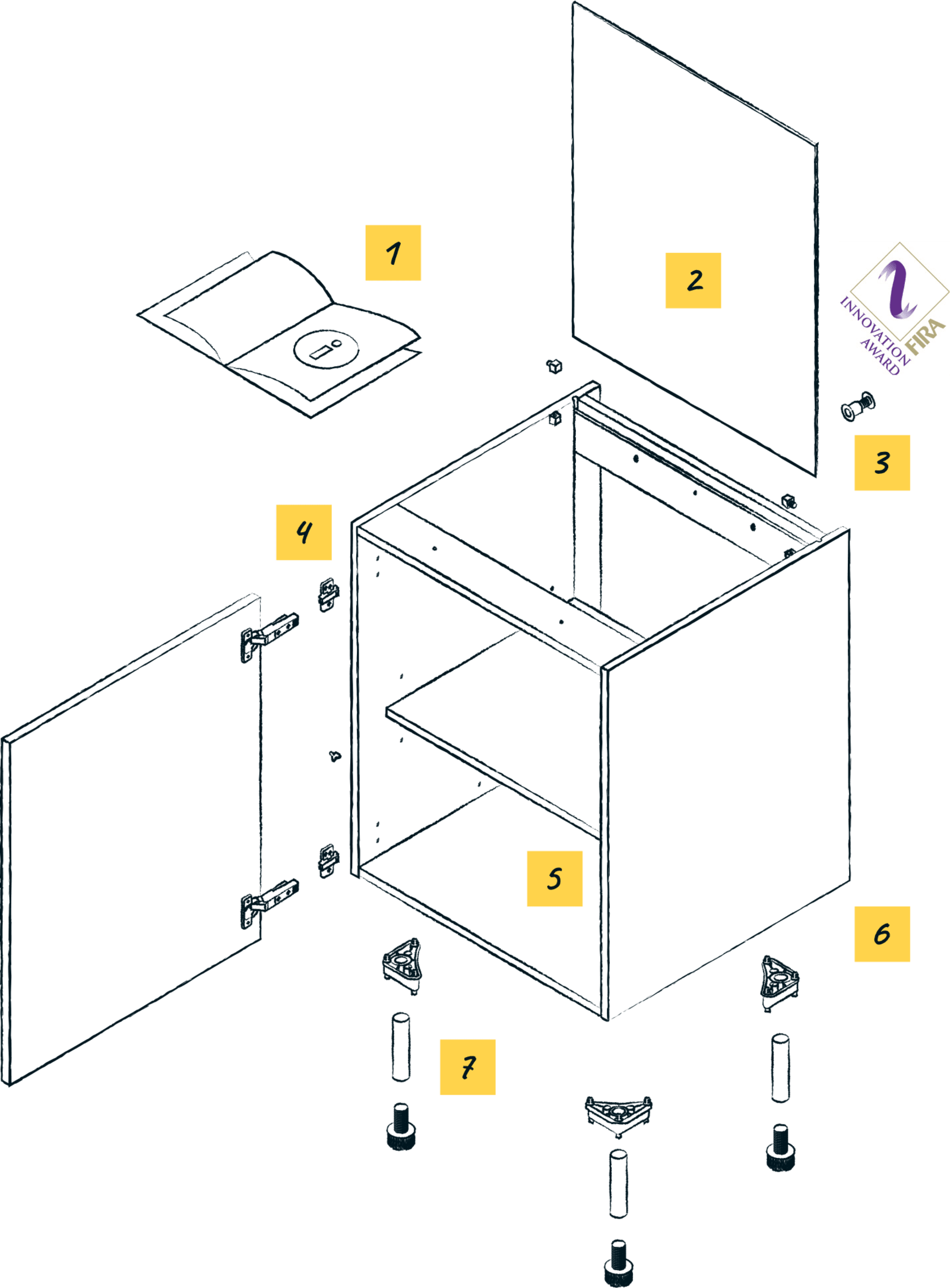 ---
It all adds up to save you 20% on installation time - so you can deliver high quality, long-lasting kitchens on all your jobs.
OUR 7 KEY IMPROVEMENTS
How does it work?
1. Simply unscrew the single screw
2. Remove the 6mm back panel
This improvement also helps end users in the future with fuss-free maintenance.
How does it work?
1. Drill through the predrilled hole into the wall and insert your wall-fixing
2. Position your screw through the spacer. Unwind the spacer as required
3. Tighten up your screw!
What's more, the Space-Plug solution is AWARD-WINNING
That also means our cabinets are easily adjustable, post-installation.
Shelves can now sit flush against the cabinet sides without a gap. They're easy to install, remove and adjust – designed to stay sturdy for years and years to come.
There's no need for sawing or cutting – saving loads of time on installation and cutting down on mess.
It's great for uneven walls, allowing easy maintenance of pipes.
There's also less waste –with nothing to throw away!
How does it work?
1. No screwing or drilling needed - just knock in the three pins
2. Legs twist to adjust length
It all adds up to a 66% time saving when installing legs.
PLAN
Showrooms for you
& your Customers
Design Excellence
& Expertise
On-Trend Enhanced
Kitchen Offer
Budget & Premium
Doors, Floors &
Finishing Touches
ASSIST
Projects & Extensions
Best-Selling Kitchens
from Stock
Brochures & Sales
Support Material
Fast Designs
& Quotes
Free Site Measures
BUILD
Delivery to Store or Site
Enhanced Cabinets
with Easy-Fit Features
100% Responsibly
Sourced Timber
Kitchens Crafted
in the UK
Quality Guaranteed
PROFIT
Trade-Only Deals
Volume Discounts
Exclusive Offers
10% Referral Rebate
on your Customers
Purchases
Credit Accounts
Available
APPLY FOR A TRADE ACCOUNT TODAY
30 days credit
Exclusive Trade discounts and benefits
24/7 online accounting
Offers for you to offer your customers, and get referral rewards
Over 195 showrooms for you and your customers
Free & speedy kitchen designs and quotes
Finance options for your customer to protect your cash flow